Decorating with Antique or Vintage Mirrors
12/23/2020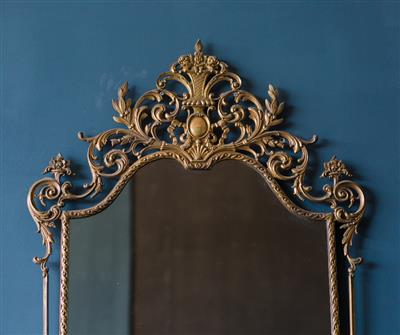 Mirrors are one of the best ways to not only add a decorative touch to the interior of your home, but it allows the space to feel larger and brighter, too! If you are looking to update your existing room to something more timeless, antique mirrors with vintage flare are the way to go. Decorating a room with vintage pieces makes the room very chic in addition to the brightness the mirrors serve.
From the master bathroom to above your dining room buffet, vintage mirrors are conversation pieces along with the rest of your décor. There are many different kinds of mirrors to choose from — color, style, size, etc. — so, it can be hard to choose one! That's why our team here at Frank Wright suggests you style your space with an antiqued piece.
Opt for an Accent Wall Statement
We have found a lot of homeowners like to use a wall in an unlikely space and make it a statement. This could be your stairwell, the entrance to your master bedroom, one of your hallways, or even in the lavatory right off the kitchen. Search for a space in your home that you feel either deserves a facelift or to incorporate a new look altogether. What might be the most interesting about an antique mirror accent is that this alone is accenting enough. Antique mirrors hold so much character that you really don't need too much around them to fill the space.
How to Distinguish an Antique from a Non-Antique
There are countless kinds of mirrors out there for you to look through, but are they antique? Antiques are distinguishable from many other items because of their observable age. You are going to see the glass of the mirror is most likely weathered, cracked, tarnished, or blotchy. The frame might have scratches or some light rust (if it's metal). These details in a mirror are not only revealing of the antique's age but also of a story behind it. This item has been around for a long period of time, and the discrepancies reveal so much character, as well.
So, if you are looking to add some character into your space, forget the post-modern, straight-edged, boring look, and give an antique mirror a chance in one of your spaces.
If you have a mirror and want it styled differently or need glass restoration for a vintage piece you want to display, call Frank Wright today at (313) 521-1888. You wouldn't even know that the mirror is an antique after our custom glass repair and restoring it to its original state!
Frank Wright Glass: Antique Glass Repair & Expert Advice
Find out why Frank Wright Glass has been an industry leader for over 90 years. Frank Wright is referred to by other repair shops due to his high-quality leaded glass repair. You can wholeheartedly trust the expert team at Frank Wright Glass when you need repairs for custom glasswork. Frank Wright Glass does it the only way it should be done — by hand!
Restore the beauty of your leaded & stained glass, or get expert advice for decorating your home or business, by trusting Frank Wright Glass to give your prized pieces new life. We treat every stained-glass restoration assignment with care and precision. So, why use an impersonal middleman? Come right to the source and work with the devoted craftsmen at Frank Wright Glass. We perform many glass-related jobs, including fine glass crystal repair, mirror re-silvering, hand beveling glass, glass shower doors, tub enclosures, and more.
Give us a call today at (313) 521-1888 or click here to fill out our contact form!

More Related Articles
Learn more about Mirror Resilvering
More on Antique Glass
So What Is A Beveled Mirror?