So What is a Beveled Mirror, Anyway?
2/28/2021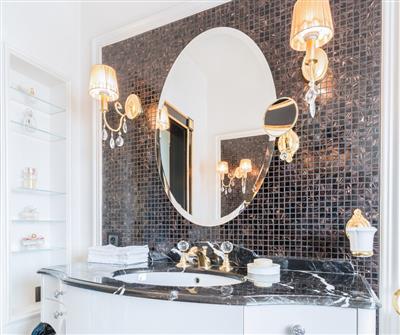 So What is a Beveled Mirror, Anyway?
Mirrors come in all shapes and sizes and are an extremely versatile decoration in many homes. They are usually hung in your bathrooms, or entryways for a quick glance before heading out the door, and various areas of homes. A recent trend that is making its way back to popularity is beveled mirrors, which offer beautiful edgework on mirrors.
In the early days of mirrors, they were made of metal, either bronze or silver, and were polished to give that beautiful shine and mirrored ability. Production of mirrors on a commercial scale started around the mid-16th century, which is also when beveling was done by hand – crazy! What makes mirrors beveled is polishing the angles to form a border, which in turn reduces the mirror's thickness.
Back in the day, to get the beveled look on a mirror, they were ground on stone or steel wheels and all polishing was done using pumice on cork wheels or other felt wheel methods. And crazy enough, these methods are still used today but on a much more modern-industrial scale. Today, beveling is usually done on huge, expensive machines with diamond wheels that will remove glass, and polished with cork or felt which happens at the end of the line, which is a process called "edgework".
What Makes Frank Wright Glass Special?
Here at Frank Wright Glass, we do all our work by hand – including beveling. We believe this is the best way to get things done for our customers. Nothing quite compares to the beauty that beveling can have on the mirrors or glass pieces in your home. Our artists are highly skilled and professional, and doing our work by hand can really take our client's dreams and turn them into a reality. It truly makes a difference knowing the work will be done by someone you have had a conversation with. Our method of work guarantees that it is of the highest quality. We do it Wright!
Do Beveled Mirrors Cost More?
In short, yes. However over time beveled mirrors have gotten much more affordable as we see more and more people going for the beveled look. The high price is worth paying for because these mirrors add so much extra style to your home.
Frank Wright Glass: Antique Glass Repair & Custom Glass Work
Find out why Frank Wright Glass has been an industry leader for over 90 years. Frank Wright is referred to by other repair shops due to his high-quality leaded glass repair. You can wholeheartedly trust the expert team at Frank Wright Glass when you need repairs for custom glass work. Frank Wright Glass does it the only way it should be done — by hand!
Restore the beauty of your leaded & stained glass, add beveling to your mirrors for an added artistic touch, or get expert advice for decorating your home or business, by trusting Frank Wright Glass to give your prized pieces new life. We treat every stained-glass restoration assignment with care and precision.
So, why use an impersonal middleman? Come right to the source and work with the devoted craftsmen at Frank Wright Glass. We perform many glass-related jobs like fine glass crystal repair, mirror re-silvering, hand beveling glass, glass shower doors and tub enclosures, and more.
Give us a call today at (313) 521-1888 or fill out our contact form!