5/14/2020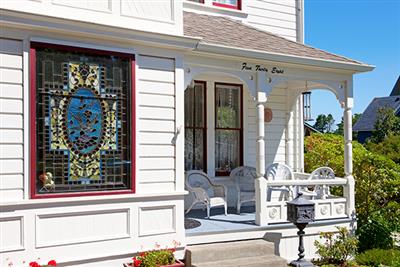 Using Stained Glass in Your Home or Business
Churches are not the only places you find the stained glass. Just take a stroll through older neighborhoods where Victorian-style homes reside. You will certainly find some beautiful windows to admire.
Frank Lloyd Wright and Louis Comfort Tiffany are the designers credited to bringing the stained glass out of churches and into residential homes and even some businesses. Wright's glass resonated with his architectural style with geometric patterns of straight lines, rectangles, squares, and circles.
Tiffany's work differed immensely. He was totally inspired by nature, with curvy lines and representations of trees, flowers, and other outdoor elements.
The process of stained glass is fairly straightforward and while its custom made, it does require great talent and skill.
The artist first makes a small-scale layout of the design before measuring up the actual window to create a pattern for the full-size piece. This pattern is transferred to paper or cardboard where the artist will use it to fill with the glass pieces.
Colored glass is then cut into the shapes on the. Once all cut, they are bound with strips to lead and then soldered together.

In older houses, stained glass is most often seen as accents in stairways, entryways, bathrooms, and kitchens but can be used almost anywhere.
In addition to its beauty, stained glass can provide privacy while still being beautiful, especially useful for spaces like bathrooms or bedrooms. It can block an unattractive view such as your neighbor's unkempt yard or bad landscape job.
You will definitely want to place your stained glass where daylight will shine and exhibit its beauty. Nighttime lighting also presents your custom glasswork in a different way allowing you to enjoy it at all times of the day!
If you have a spot in mind for a stained glass door or window by trusting Frank Wright Glass in your home or business, give us a call today at (313) 521-1888 or click here to fill out our contact form! We also do leaded glass and stained glass repair work.