Stained Glass Can Be Found Everywhere!
4/20/2021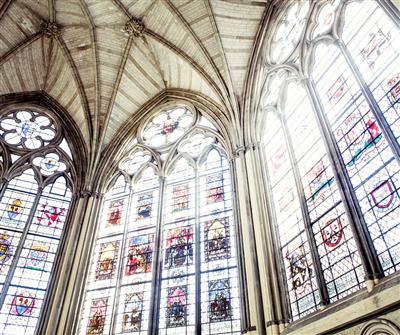 Stained Glass Can Be Found Everywhere!
Are you ever just driving down the street passing by that old church on the corner and see beautiful stained glass shining in the sunlight? Well, this glass could be decades-old, and it still gives off a gorgeous, colorful light inside and outside. Plus, even though places of worship might be the most common, stained glass can be used in just about any residential or commercial building!
In fact, Frank Wright Glass has experience repairing and restoring stained glass for home china cabinets, doorways, artwork displays, windows and window treatments, and more. Stained glass is a beautiful addition to any space given the material is usually custom-made and can have a wide variety of colors incorporated into the piece.
If you've discovered yourself being one of the many admirers of stained glass, then it's rather likely that you have or would love stained glass in your home or business! Maintaining these beautiful pieces of the art clean and cared for is an extremely important part of owning them. These pieces are different than traditional glass. You can't easily spray glass cleaner on, wipe with a paper towel, and call it good. Stained glass is too delicate a material and requires a different method.
In addition to incorporating stained glass into your home, there are plenty of commercial spaces that stained glass can compliment very nicely. Below is a list of some of the commercial spaces that stained glass can brighten up.
Places of worship (churches, synagogues, mosques, etc.)
Front lobbies & office buildings
Restaurants
Community centers
Retail stores
Casinos
Hotels
& so many more!
Frank Wright Glass: Custom Glass Work, Stained Glass Repair, & Crystal Glass Repair in Detroit
For over 90 years, Frank Wright Glass has been an industry leader for stained glass repair Detroit. Frank Wright is referred to by other repair shops due to his high-quality glass repair. In addition to stained glass work, you can absolutely trust the expert team at Frank Wright when you need repairs for antique glass, mirror resilvering, or crystal repair in Detroit and the surrounding areas.
Restore the beauty of your leaded & stained glass, add beveling on your mirrors for an artistic touch, or get expert advice for decorating your home or business. Trust Frank Wright to give antique family heirlooms or quality glass pieces a new life. We treat every custom glass repair with care and precision. Plus, Frank Wright does it the only way it should be done — by hand!
So, why use a middleman who you have a hard time trusting? Come right to the source and work with the devoted craftsmen at Frank Wright Glass. We perform many glass-related jobs like fine glass crystal repair, mirror re-silvering, hand beveling glass, glass shower doors, and tub enclosures, and more.
Give us a call today at (313) 521-1888 or fill out our contact form!