4/17/2020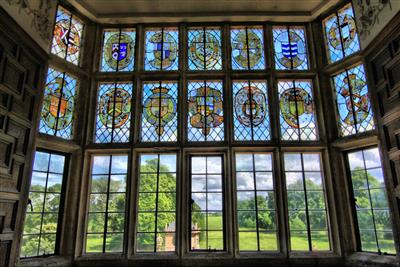 Leaded & Stained-Glass Ideas
In Your Home or Business!
Looking to change up the scenery in your home or business? Are you considering doing more than just a simple paint job or replacing some furniture? The experts here at Frank Wright Glass have the know-how to bring some stunning art into your living and working spaces. By installing leaded and stained-glass, everything from windows to cabinet inserts become defined with characteristics like floral arrangements, geometric shapes, or custom designs!
Take a look at the following list of stained-glass ideas you can implement in your home or business:
Windows
Something that many people love about stained-glass windows is the reflection of sunlight beaming through them. With all the possible colors of glass to add, these kinds of windows make for a very unique piece of art in your home or business. What's more, is that stained-glass windows can provide privacy in areas of your home. For instance, like in bathrooms, stained-glass windows are one of the best solutions that not only give you privacy, but beautiful and colorful natural light coming into the room, as well.
Doors
Interior doors are another great way to bring some uniqueness to your space. Think about a room that you feel is most inviting: the dining room, kitchen or library/study; or in your business: a conference room or lobby. These are perfect areas of your home to add some aesthetically pleasing art, like a stained-glass door, as a focal point for the room. We even recommend your front door for an inviting entrance for guests and clients alike!
Custom Lamps and Light Fixtures
If you're tired of your standard soft white hue your table lamp gives off, consider the definition a custom stained-glass lamp or light fixture will bring to your room! Customizing stained-glass for lighting really allows the colors and details of the glass to be accentuated in your rooms. Boring spaces come alive with unique design elements and a plethora of colors that help turn what was once a standard room into something special and inviting.
Suncatchers & Hanging Windows
If you don't want to go through the trouble of removing and reinstalling windows, doors, etc., then why not opt for something that still gives you the beautiful aesthetic of a stained-glass window? Suncatchers and hanging windows are just as attractive as any other stained-glass insert in your home or business. What's even better is if you want to change things up, all you need to do is take it down and put it up in another area. We definitely recommend a suncatcher or a window hanging in your office to give your workspace some artful character!
With these suggestions, we want you to remember the methods you utilize stained-glass in – whether at home or at work – are all very versatile. Imagine how stained-glass might bring light and art into your spaces and allow you to bring your unique design styles to life!
Frank Wright Glass: Leaded & Stained-Glass Repair & Expert Advice
Find out why Frank Wright Glass has been an industry leader for over 90 years. Frank Wright is referred to by other repair shops due to his high-quality leaded glass repairs. Other glass shops know, when they need repairs for leaded glass antique pieces, they can trust the team at Frank Wright Glass. Frank Wright Glass does it the only way it should be done by hand.
Restore the beauty of your leaded & stained glass by trusting Frank Wright Glass to give your prized pieces new life. We treat every stained-glass restoration assignment with care and precision. So, why use an impersonal middleman? Come right to the source and work with the devoted craftsmen at Frank Wright Glass. Give us a call today at (313) 521-1888 or click here to fill out our contact form!