Broken Crystal? Leave it to The Pro's!
3/26/2021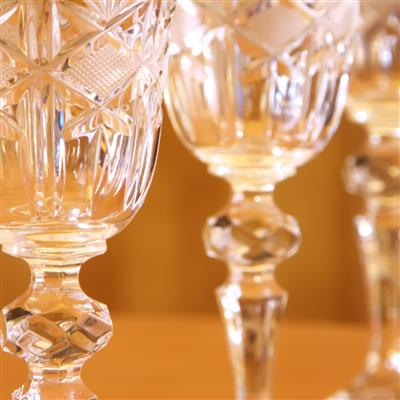 Broken Crystal? Leave it to The Pro's!
Crystal glass has been one of the most stunning home décor items in the world for many generations. It has been used for everything from light fixtures to glass sculptures and jewelry. It has an ability to capture and reflect light, making it such a valuable collectable.
Whether you cherish your own Swarovski or Waterford collectibles, or you take pride in your sentimental family heirlooms, damage that occurs to them can be devastating. The good news is that broken crystal can be fixed; although it will require an experienced eye to do it right. If you need to restore a crystal glass collectible, you can trust Frank Wright Glass to cherish these pieces as if they were our own!
Crystal glass repair is as much an art as it is a science, which is why glass artist, Mark Losinski, is so in demand. In fact, other glass repair shops call on Frank Wright Glass for repair jobs that might seem like they're impossible to fix. Mark is well-known in the Detroit area for crystal glass repair, and he is an accomplished artist offering his craft through our well-established crystal repair shop. So, rest assured that your cherished heirlooms and most prized pieces are in the utmost meticulous care!
If your crystal is broken or there are pieces of it broken off, here are some important things to remember before bringing it in:
Prioritize your safety first! Be careful with your broken crystal, making sure you don't cut yourself or leave pieces out for you to step on.
Collect the broken pieces to ensure our team has everything we need when we are ready to begin. Wrap larger pieces in bubble wrap, put smaller pieces in a plastic container, and then box them all together.
Please do not attempt to repair your crystal glass yourself unless you have specialized training. Our artist, Mark, has the experience, knowledge, and specialized tools to restore and preserve your crystal the way it should be. If you attempt to fix it yourself before giving it to a trained artist, you might make the repair more difficult and even more costly for you in the end!
When you bring your crystal glass into Frank Wright, don't hesitate with your questions or concerns. We can answer all of your questions and give you our best estimate of how long the project will take. We can even demonstrate what methods will be used before we even start working.
Frank Wright Glass: Crystal Glass Repair & Custom Glass Work
See how Frank Wright Glass has been an industry leader for over 90 years. Frank Wright is referred to by other repair shops due to his high-quality leaded glass repair. You can wholeheartedly trust the expert team at Frank Wright when you need repairs for antique glass, mirror resilvering, or crystal repair in Detroit and the surrounding areas.
Restore the beauty of your leaded & stained glass, add beveling on your mirrors for an artistic touch, or get expert advice for decorating your home or business. Trust Frank Wright to give your prized pieces new life. We treat every custom glass repair with care and precision. Plus, Frank Wright does it the only way it should be done — by hand!
So, why use an impersonal middleman? Come right to the source and work with the devoted craftsmen at Frank Wright Glass. We perform many glass-related jobs like fine glass crystal repair, mirror re-silvering, hand beveling glass, glass shower doors and tub enclosures, and more.
Give us a call today at (313) 521-1888 or fill out our contact form!