What to Know About Frameless Glass Shower Doors
1/27/2021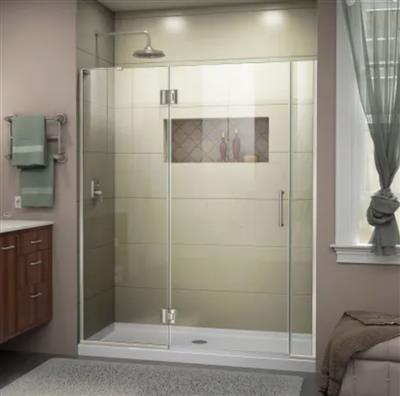 Bathroom renovations are not a new thing. Homeowners have been remodeling bathrooms for decades to keep up with the latest looks and trends of design. Though, one particular highlight in trendy designs from the last few years is frameless shower doors.
The fact of the matter is that fully frameless showers offer what framed or traditional showers cannot! This aesthetic allows you to display recently redone tile within your shower. They eliminate unnecessary nooks and edges for easier cleaning. Plus, without framing, glass showers appear sleeker while also giving the bathroom an airier and more open feel.
Now, to get a better idea of what to know about glass shower doors, let's explore some important things to know before you make a purchase!
Costs range depending on the job. Depending on a variety of factors, glass shower door installation can vary based on the size of the shower, the style of the glass, or whatever add-ons you want to be installed. From a few hundred dollars to upwards of $3,000 or more, custom glass showers are tailored to your home and your needs, which makes the pricing fluctuate.
Swinging vs. sliding shower doors. There are essentially two different types of doorways for showers: swinging style or sliding style. Depending on the size, shape, and location of the entry to your shower, one particular style may be a better fit for you than the other. From inline doors and barn door styles to floor-to-ceiling steam showers, homeowners essentially need to determine the overall look of the shower when making this decision.
Choosing the style of the glass itself. Not all showers need to be clear, transparent glass, even though that is generally what is installed the most. There are a variety of styles of glass that you can use in your shower. From acid-etched glass (such as frosted glass) to patterned and tinted glass, you can customize the glass to match the styles of the bathroom.
Think about the increase in value. Along with the cost and the specific style you are going for, homeowners should always consider the bottom line in home improvements: How does this affect the value of your home? If your bathroom tile is in good shape, smaller installations like a new shower door can drastically improve the look and feel of a bathroom. Not only will such an addition improve your value, but you'll save money from going through a complete makeover of the room altogether!
The professionals at Frank Wright Glass will work closely with you to design the shower or bath of your dreams. With a custom design, you can easily reflect the overall style and character of your home - modern, antique, or a classy mix of both. Whether it's a steam room door, a glass shower door, or a full glass enclosure, Frank Wright Glass does it Wright!
Frank Wright Glass: Antique Glass Repair & Custom Glass Work
Find out why Frank Wright Glass has been an industry leader for over 90 years. Frank Wright is referred to by other repair shops due to his high-quality leaded glass repair. You can wholeheartedly trust the expert team at Frank Wright Glass when you need repairs for custom glass work. Frank Wright Glass does it the only way it should be done — by hand!
Restore the beauty of your leaded & stained glass, or get expert advice for decorating your home or business, by trusting Frank Wright Glass to give your prized pieces new life. We treat every stained-glass restoration assignment with care and precision.
So, why use an impersonal middleman? Come right to the source and work with the devoted craftsmen at Frank Wright Glass. We perform many glass-related jobs like fine glass crystal repair, mirror resilvering, hand beveling glass, glass shower doors and tub enclosures, and more.
Give us a call today at (313) 521-1888 or fill out our contact form!