2/12/2020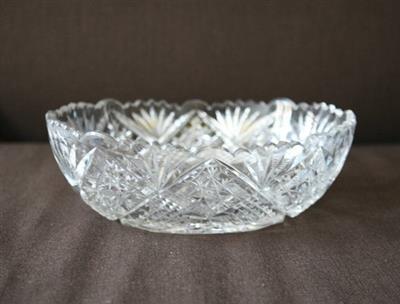 Repairing Chips and Cracks in Your Crystal Pieces
It never fails! It's not until you are setting the table for for a special event when you notice a few cracks and chips in your crystal wine glasses and dessert platter. You can prepare for the next get together and have them fixed!
Take inventory of your crystal before you next party. There are a few things you can do to the ones you set aside that are in less than perfect condition. Read on about crystal repair …
If you are pressed for time or money, you can try to repair small chips and cracks yourself. You will need to use a crystal file or sometimes even a nail file will suffice. You will be able to smooth out the sharp rough edges with the file but most likely they will still be noticeable. A better alternative is to take the damaged piece(s) to a professional crystal repair service who employ skilled craftsmen to perfect dings and chips. Most often the chips disappear or even go undetected when put back on your table's place setting.
You may also find the crystal repair professionals using a sealing compound to repair tiny cracks. These lines usually become faint to almost invisible when finished.
This technique can also be used to repair large cracks and full breaks on vases, platters or decorative items. The crystal piece will look whole again and in much better condition. This of course, is not recommended for the rim of crystal glasses as the edges can still be sharp or have a weak spot.
It is always recommended to wash all crystal items by hand using lukewarm water. They will receive much more TLC when handling them to wash and dry than in your dishwasher.
Crystal glass repair is as much an art as a science, which is why glass artist Mark Losinski is so in demand. In fact, other glass repair companies call on Frank Wright Glass for the complex repairs they come across. Mark is well known in the Detroit area for crystal glass repair. He is an accomplished artist who offers his craft through a well-established crystal repair shop, so you can trust your cherished heirlooms and most prized pieces to his meticulous care.
If you have crystal pieces that are chipped or cracked, call the crystal repair experts at Frank Wright Glass. We do it the only it should be done and that is by hand.
Call Frank Wright Glass today at (313) 521-1888 or you can also reach out to us on our contact form.