10/20/2020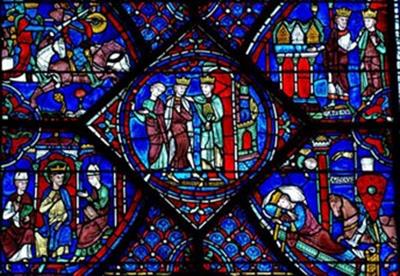 From 1100 through the 1500s, during the Gothic and Renaissance periods, stained glass was one of the prominent techniques of painting practiced throughout Europe. It may sound strange to refer to stained glass as a form of painting, but surprisingly, it is.
Stained glass has inspired the religious sector of the world as shown in many churches, as well as displayed in public buildings. You will also see an array of stained glass decorating the windows of many homes found in smaller towns.
Where did the term "stained glass" come from?
The term stained glass comes from the silver stain that was used on the side of the windows that faced the outsides of their building. When the glass was fired, the silver stain would turn a yellow color ranging from lemon-yellow to gold. Stained glass was used to create windows so that the light would shine through the painting. Although this form of painting began over 1,000 years ago, stained glass is basically still made the same way today.
Types of Stained Glass:
Gothic Stained Glass
You can find most Gothic Stained Glass in a medieval church. Although they consistently have dark interiors, the insides are illuminated with colored light beaming down from above.
Renaissance Stained Glass
During the Renaissance, light-filled rooms in homes were popular amongst the upper-class. The large glass windows were created to look through them from your castle out onto the outer world.
By the late 1400s, this glass became more affordable, and common houses were fitted with clear glass windows as well, sometimes inset with small stained-glass panels.
Large-Scale Stained Glass
The production of large-scale stained-glass windows for churches expanded in Europe during the Renaissance.
Stained Glass Today
Stained glass is still alive and well today! Although not used as frequently as the Renaissance days, you will find it used in commercial office buildings as well as in quaint country home settings. The stained glass will bring light and art into your spaces and allow you to bring your unique design styles to life! Whether used as an accent window, a large room dividing panel, or as a design statement on the exterior of a large commercial building, stained glass is a decorative form of art that is here to stay.
Frank Wright Glass: Leaded & Stained-Glass Repair & Expert Advice
Find out why Frank Wright Glass has been an industry leader for over 90 years. Frank Wright is referred to by other repair shops due to his high-quality leaded glass repairs. Other glass shops know, when they need repairs for leaded glass antique pieces, they can trust the team at Frank Wright Glass. Frank Wright Glass does it the only way it should be done by hand.
Restore the beauty of your leaded & stained glass by trusting Frank Wright Glass to give your prized pieces new life. We treat every stained-glass restoration assignment with care and precision. So, why use an impersonal middleman? Come right to the source and work with the devoted craftsmen at Frank Wright Glass. Give us a call today at (313) 521-1888 or click here to fill out our contact form!