9/25/2020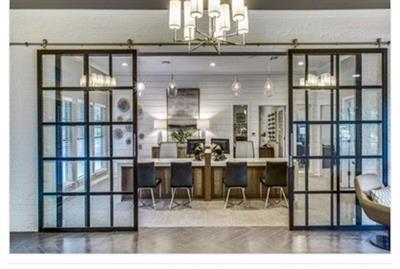 Interior sliding barn doors have been an ongoing trend for the last few years. Recent demand for sliding glass barn doors is quickly growing because of their unique style and design impact.
There are many other reasons these sliding glass barn doors are hot right now. They bring a modern look to your home that lends a simple elegance without sacrificing light or functionality. You can add back painted or etched glass for a more artful look. And in all practicality, even with the transparency of the glass, the doors still provide some privacy between the rooms.
In addition to the captivating appeal of these glass barn doors, they save more space than traditional doors. Instead of having a door that swings in or out, this sliding door is flush with the wall. Sliding barn doors easily slide open and closed with no bottom track. It's also an easy way to partition open spaces.
For example, if you have two rooms connected by a large opening, such as a kitchen and family room, the sliding glass barn doors give you an option to close off one of these rooms or keep the area with a large open space. This way family members of guests can converse or watch a game in the family room while eating or more quiet conversation takes place in the kitchen. If there is room for the track, these doors can be mounted anywhere; pantry, closet, bathroom, bedrooms, offices, etc.
The list of benefits of sliding glass barn doors is endless. From adding an elegant statement to your open space to providing closure without sacrificing light, these sliding glass doors are the latest and greatest thing!
Update your home with a sliding glass barn door from Frank Wright Glass. Our team of professionals will work closely with you to provide options on the right sliding glass barn doors for your home or office. Contact us today at 313-521-1888 or reach out to us on our contact form.