8/17/2020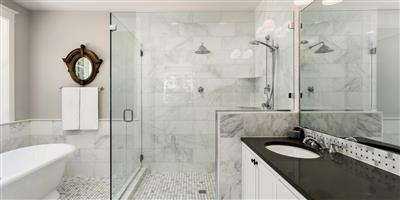 Walk-in showers with no threshold have been trending for a while. Now more than ever, the use of large-format tiles and linear drains is growing. Large-format tiles start at 16 inches but can size up to as large as 10 feet. They come in all shapes from square to rectangular and can be made from ceramic, porcelain, and stone. Minimizing grout lines also make these oversized tiles appear seamless hence giving them the illusion of a bigger space.
When it comes to the shower doors there are basic things to consider.
Framed vs. Frameless
Framed refers to the metal border that surrounds the glass. Typically, most people select frameless doors because not only because they give a larger clean appearance, but frameless are also much easier to keep clean! Even with constant cleaning, a framed glass shower door can be difficult to keep clean around the edges. So, when it comes to choosing, frameless shower doors are usually the winner!
Style
Shower doors come in a variety of styles. From bi-fold to sliding, swing doors, and spray panels, there are many options to choose from. Since all are custom designed, the possibilities are endless and all provide an upscale atmosphere to your bathroom.
Choosing the right shower door company also matters. Frank Wright Glass is a top choice when it comes to glass shower doors! We offer custom glass designs that add a touch of elegance, as well as a clean, slick appearance to your bath or shower area. Our glass shower doors retain their beauty for years and they are easy to clean.
The professionals at Frank Wright Glass will work closely with you to design the bath of your dreams. With a custom design, you can easily reflect the overall style and character of your home - modern, antique, or a classy mix of both. Whether it's a steam room door, a glass shower door, or a full glass enclosure, Frank Wright Glass does it Wright. Contact us today at 313-521-1888 or reach out to us on our contact form.